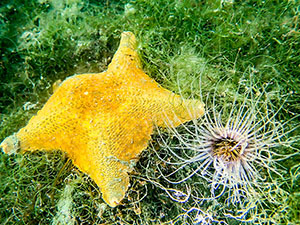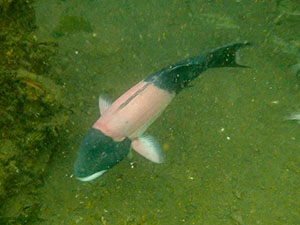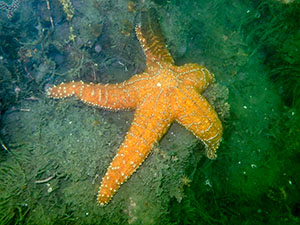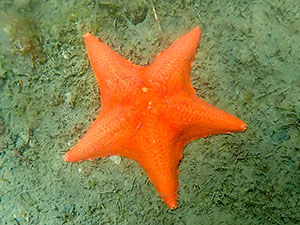 The seafloor, the second largest harbor habitat, can include areas with sandier sediments as well as more protected areas with muddier sediments that have higher organic content, which affects the types of animals that can live there. The seafloor is home to animals that live in the sediments (infauna) and on top of the sediment (epifauna), with species such as shrimp, crabs, stingrays, barred sand bass, and halibut common throughout the harbor.
Eelgrass is able to grow in shallow areas, where it forms beds that support rich food webs by providing structure, food, and nursery habitat for many fish, invertebrates, and birds. Eelgrass grows most rapidly in the summertime, and covered over 85 acres in the Port of LA in the summer of 2018.
Test your knowledge of harbor food webs by playing our game!
Photos from top to bottom: sheephead (male) in inner harbor, ochre star in outer harbor, bat star and tube anemone in outer harbor, bat star in inner harbor
Scroll through the gallery and click the thumbnails below to view photos from the seafloor habitat!